Our Mission
We seek to give young children a foundation for success through the powerful effects of reading and sharing a story with a loved one. 
To do this, we partner with doctors and nurses across the state to incorporate books into children's routine pediatric care visits and encourage families to read together.
Our Model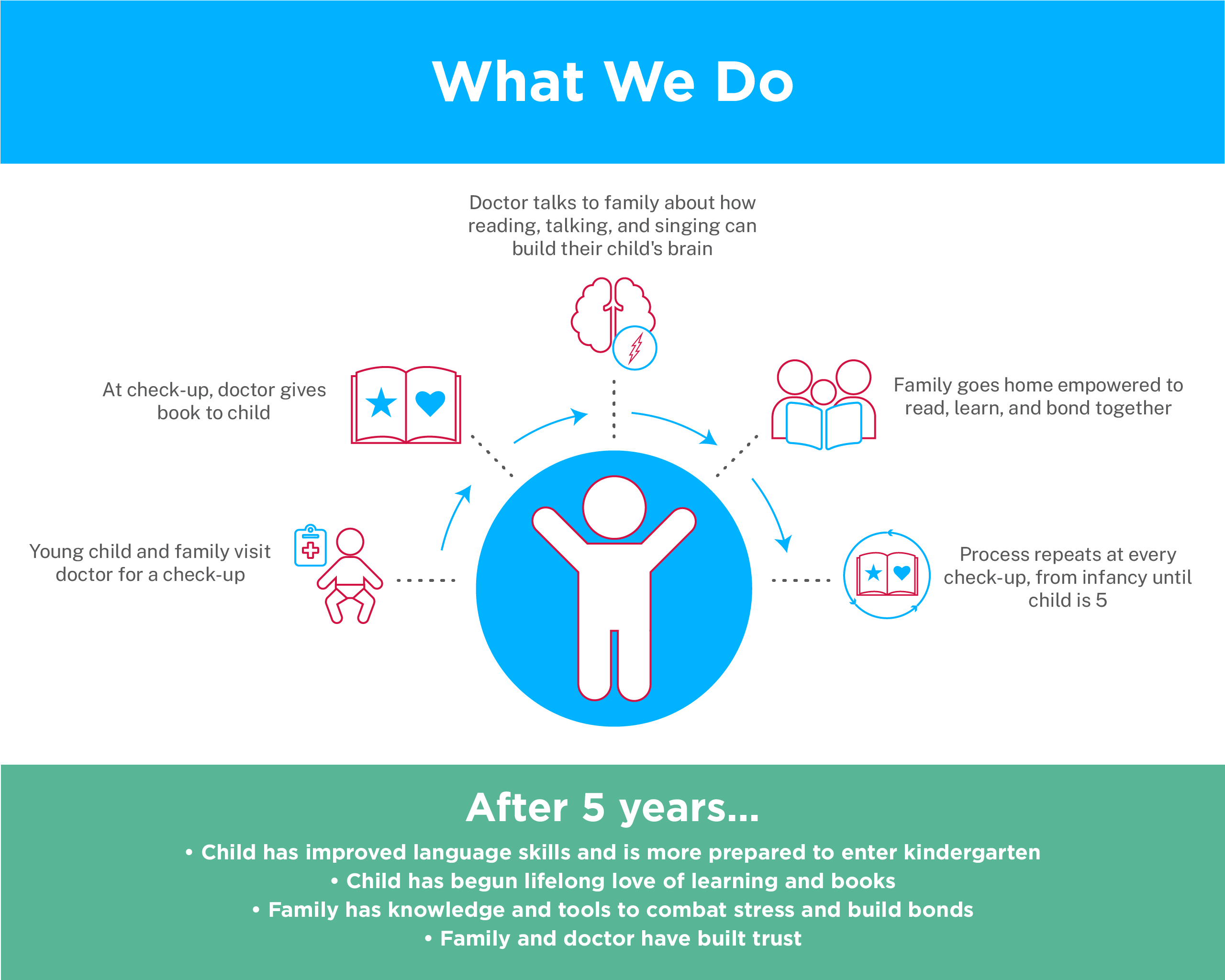 At children's regular check ups, doctors and nurses, trained in the Reach Out and Read model, speak with parents and caregivers of children ages birth to five years, about the importance of reading for their child's development. 
Each time they visit their doctor, children in our program go home with a culturally and developmentally appropriate book to read and share with their families.
Because we collaborate with pediatric care providers, we are currently the only organization with the potential to serve every child in the state before they enter kindergarten. 
We currently serve over 180,000 children at over 288 clinics across Minnesota. 
Why it's important
When it comes to brain development, the first years of a child's life are far and away the most important. 
By the time a child is 3  years old his or her brain is already 80% developed. By 5 years,  it will be 90% developed.
What happens to a child in this critical window will affect him or her for the rest of his or her life, for better or for worse. 
Currently nearly a third of all children, including half of children living in poverty, arrive at kindergarten without the skills they need to succeed. Most of these students will never catch up.  Our program can change that. 
Our program has been proven to change children's lives 
We know that sharing a book with a child is essential for their brain development, language acquisition, school readiness, and their social and emotional well-being.
Among families that participate in Reach Out and Read programming: 
Parents are 2 and a half times more likely to read to their children
Parents are 2 times  more likely to read to their children more than three times a week
Families are 2 and a half times more likely to enjoy reading together or have books in the home
Children's language development is improved by 3-6 months
Children's language ability improves with increased exposure to Reach Out and Read
The Reach Out and Read program is endorsed and recommended by The American Academy of Pediatrics. 
Read more about the evidence here.
Want to learn how you can make a difference in the lives of Minnesota children? Learn how you can get involved.