Our History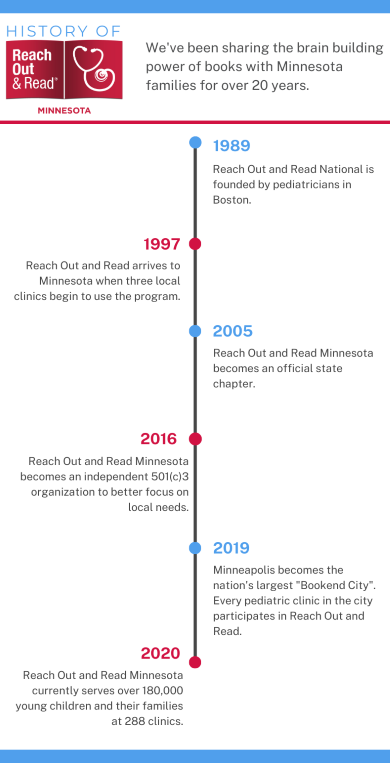 Reach Out and Read as a national organization was founded in 1989 by a small group of pediatricians in Boston  who saw the unique opportunity they had to make an impact on childrens' health and development through books and reading. The program first arrived to Minnesota in 1997 when 3 clinics, inspired by the powerful results Reach Out and Read chapters were achieving across the country, began using the program.  From there, Reach Out and Read expanded rapidly across the state. In 2005, Reach Out and Read formed an official state chapter and by 2010 the program had over 70 participating clinics.

In order to better meet the unique needs of our Minnesota clinics, Reach Out and Read became an independent Minnesota nonprofit corporation in June of 2016.  As an organization, Reach Out and Read Minnesota has been committed to providing the highest quality and most culturally appropriate services to our participating families. While our aim is to serve all children and their families across the state, we also make an effort to target clinics that serve higher risk and lower income populations. Additionally, we provide books in multiple languages that mirror the needs of our local Minnesotan communities, including books in Spanish, Somali, Hmong, Karen, Burmese, and Ojibwe. 

Reach Out and Read currently serves nearly half of all Minnesotan children and their families at over 280 clinics across the state. In January of  2019,  Minneapolis officially became the nation's largest 'Bookend City', meaning that every pediatric care clinic in the city is an active participant in the program. We invite you to follow us and get involved as we seek to expand our impact even further and eventually serve every eligible child in the state.