Learn more about becoming a Reach Out and Read Minnesota Clinic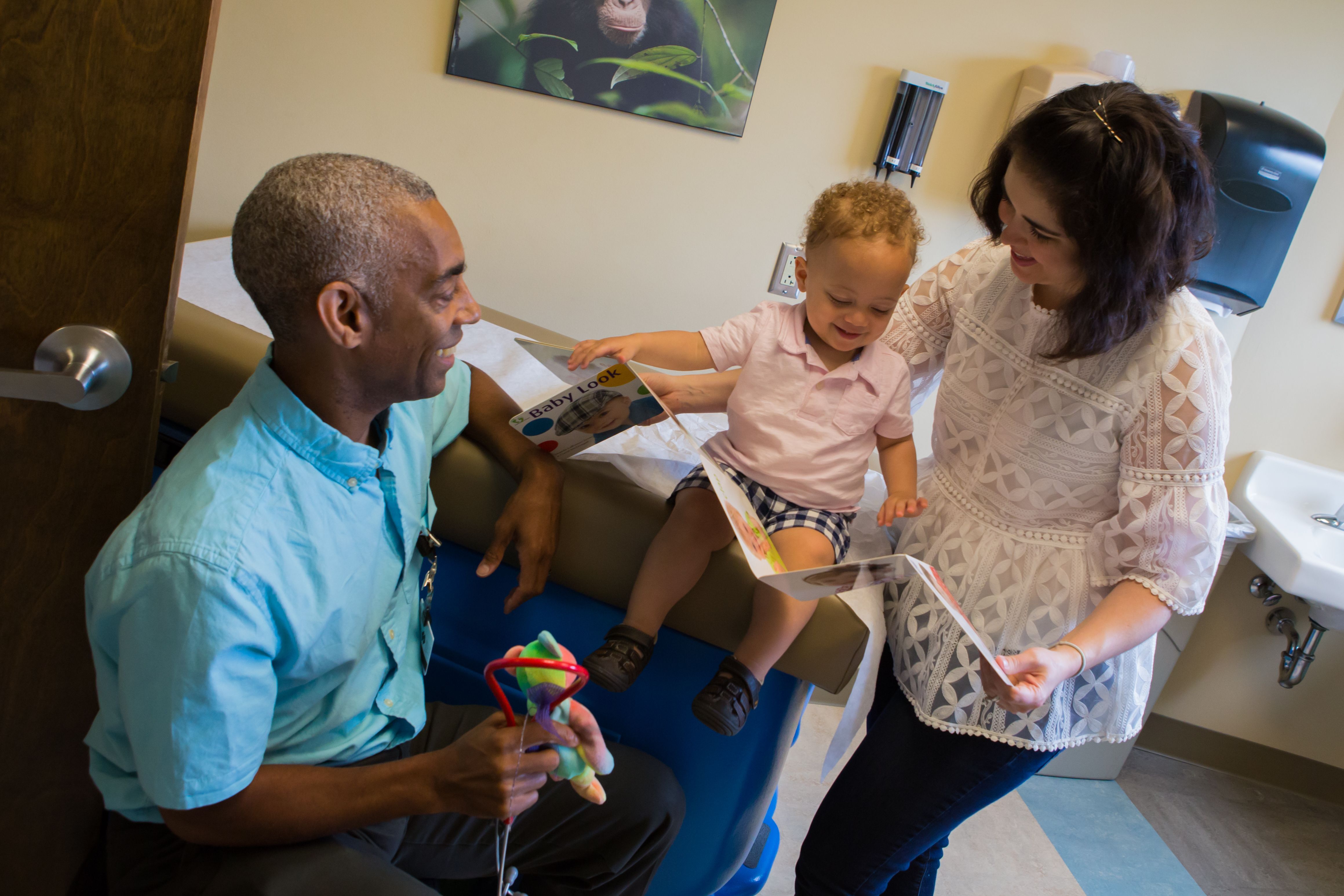 Reach Out and Read is a low-cost, evidence-based pediatric intervention that is proven to have a powerful positive impact on children, caregivers, and healthcare providers. We invite you to learn more about joining our network of nearly 300 clinics in Minnesota currently using our program to share the brain-building, family bonding power of books with their young patients and their families. 
The Reach Out and Read program is endorsed by the American Academy of Family Physicians as well as the  American Academy of Pediatrics, who has called it "the most studied and scaled primary prevention program… [which seeks] to prevent gaps in readiness before they emerge."
Ready to join?  You can start your application here: myror.org
Clinics outside of Minnesota can learn more about joining our National network here.
---
What is the Reach Out and Read Program?

The Reach Out and Read program uses books as a tool to assess and encourage young children's healthy development in their crucial first years of life. At every well-child visit, from infancy through age 5, providers trained in our program begin each visit by giving the child a book appropriate for their age and preferred language. Providers then use the opportunity to discuss developmental guidance between caregivers and young children, including encouraging early and frequent exposure to language, and positive interactions between caregivers and children. This age-appropriate guidance centers on the importance of elements such as: frequent and early exposure to language, looking at board books and naming pictures with infants, rhyme and repetition for gaining phonemic awareness during toddlerhood, and reading interactively (such as asking open-ended questions) when reading with preschoolers. Providers also use this opportunity to model reading aloud and introduce it as another way to support positive interactions between caregiver and child.

Who can participate in the program?

The Reach Out and Read model is designed to be implemented by medical professionals who provide primary care to children, from infancy through 5 years, as part of the well-child checkup. Both pediatric practices and family practices that deliver pediatric care may participate in Reach Out and Read.

Why should my clinic participate?

Reach Out and Read has become an essential part of pediatric practice across the country—from large, urban practices to small, rural clinics. By introducing a beautiful new book at the beginning of a well-child visit, providers find they can better engage and calm the child, provide meaningful, positive literacy promotion messages to the parent or caregiver, enable additional opportunities for positive caregiver/child interactions, and build stronger connections with the family. Using the book in the exam room creates an opportunity to talk about other relevant topics such as sleep routines, the importance of a child's first 2,000 days, school readiness—and offers providers a new and valuable tool for monitoring the child's development. Studies have also shown improved attendance rates at well-child visits, and improved morale among staff and providers at participating clinics. Reach Out and Read Minnesota providers have frequently told us the program is their favorite part of their day!

How much does it cost and who buys the books?

A new, high-quality book is provided at every well-child performed for children ages 6 months through 5 years; we encourage providers to give books starting at the earliest visits (birth through five months), but this is currently optional. We have access to a network of book vendors that sell a curated selection of high-quality books at deep discounts; we use $2.75 as our average cost per book for our application, though actual cost may be higher or lower depending on title, language, and vendor. A majority of our partner clinics purchase their own books, though we provide financial support for clinics participating, including Federally Qualified Health Centers, Indian Health Services/Tribal clinics, and other clinics that serve vulnerable populations.

Access to our program, clinic network, trainings, and application are all free. Thanks to a grant through the Minnesota Department of Education, we are able to provide one year's supply of books to any clinic that joins our network before July 2023. Additionally, all new clinics will receive a welcome gift of between 300-400 books, depending on the number of annual well-child visits that clinic completes.

We work with vendors to make high-quality, diverse, and developmentally appropriate books available at affordable, sustainable prices for our partner clinics. Books are available in a range of language s commonly spoken in Minnesota, including Spanish, Somali, Hmong, and Ojibwe.

Our staff is available to help clinics budget and create funding strategies as needed.

How do we apply?

Start your application today at myror.org. During the application process, you will need to:

-Provide demographic information for your patient population (e.g. language, insurance coverage).
-Decide who at your office will take leadership of Reach Out and Read as Medical Consultant and Site Coordinator.
-Obtain a letter of support from the medical director and/or executive director of your organization.
-Submit your site's W9 form or other relevant tax documentation.
-Determine how you will get the books needed for at least first year of implementation.
-Ensure at least 75% of site medical providers who see children ages 6 months to 5 years for primary care complete our online Core Provider training (CME credit provided).
Email us at info@reachoutandreadmn.org to learn more