An End of Year Letter from our Board Leadership, Nick Sperling and Lauren Gilchrist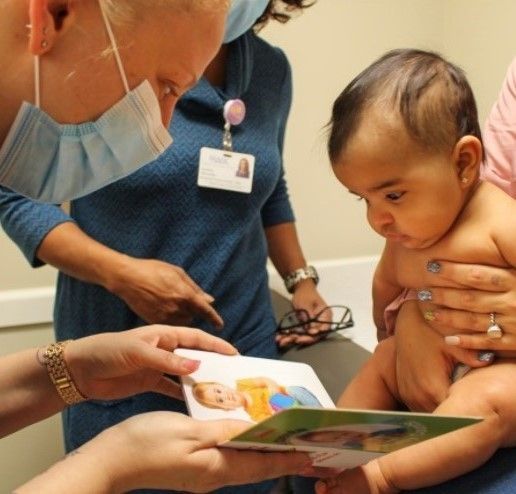 We would like to start this note by first and foremost expressing our sincerest gratitude and admiration to all of our partners and friends working in healthcare over the past year.  The resilience you have shown under immense, unyielding stress, and the compassionate care you have given to our families in this time are absolutely astounding. We know that simple thanks are not adequate compensation for all you have done and continue to do, but we think we would be remiss if we didn't at least try to express how thankful we are. 
We're both parents of young children, Nick to twins age 5 and Lauren to twins age 7. We know firsthand it has been a hectic and challenging year for parents. We know it's been even harder for the thousands of parents across the state who are currently struggling economically or who don't have access to the same childcare and learning resources.   
In months and years like these, we are especially grateful to be involved in Reach Out and Read Minnesota.  Amid all of the chaos of the world around us, we are excited that our program can bring in moments of joy, bonding, and learning into the exam room. Our program gives families and providers a space to focus on what's most important in the long run; the future of our young children. 
In spite of, or in many cases, in reaction to the myriad challenges of the past year, we have been able accomplish some pretty amazing things for our program and for the families we serve.  Just to highlight a few: 
We commissioned an original translation of the book My Day into bilingual Ojibwe English for use in our clinics. 
We brought on two new staff members. Danette Kubit joined as a Program Specialist in Rochester, helping to broaden our reach in Southern Minnesota, and Janice Haines joined as our first ever Program Manager, who is leading the implementation of our program statewide. 
We held two free educational Next Page sessions on trauma-informed care and screen time for young children. 
We secured American Rescue Plan funds to support our program's growth across the state.
We hosted our most successful ever Spring Benefit and Books and Brews event in the fall.
We supplied gently used books for our partner clinics to distribute during COVID-19 and flu vaccinations. 
We brought on a total of 27 new clinics statewide—a big hand to these clinics for prioritizing their young patients' learning and development in this time! 
The challenges facing us are daunting, but our program has two key pieces on our side: hope and momentum.  Our work is more valuable than ever, and our partners, our staff, and our community are stepping up in new ways to bring learning and bonding to families in this crucial moment. There are amazing things ahead for our program, and more importantly, for our state's young children if we give them the chance they deserve to succeed. Now is the time to believe in them and now is the time to invest in them. We hope you join us.
Wishing you and your loved ones all the best in the year to come,
Nick Sperling
Board Chair

Lauren Gilchrist
Vice Chair