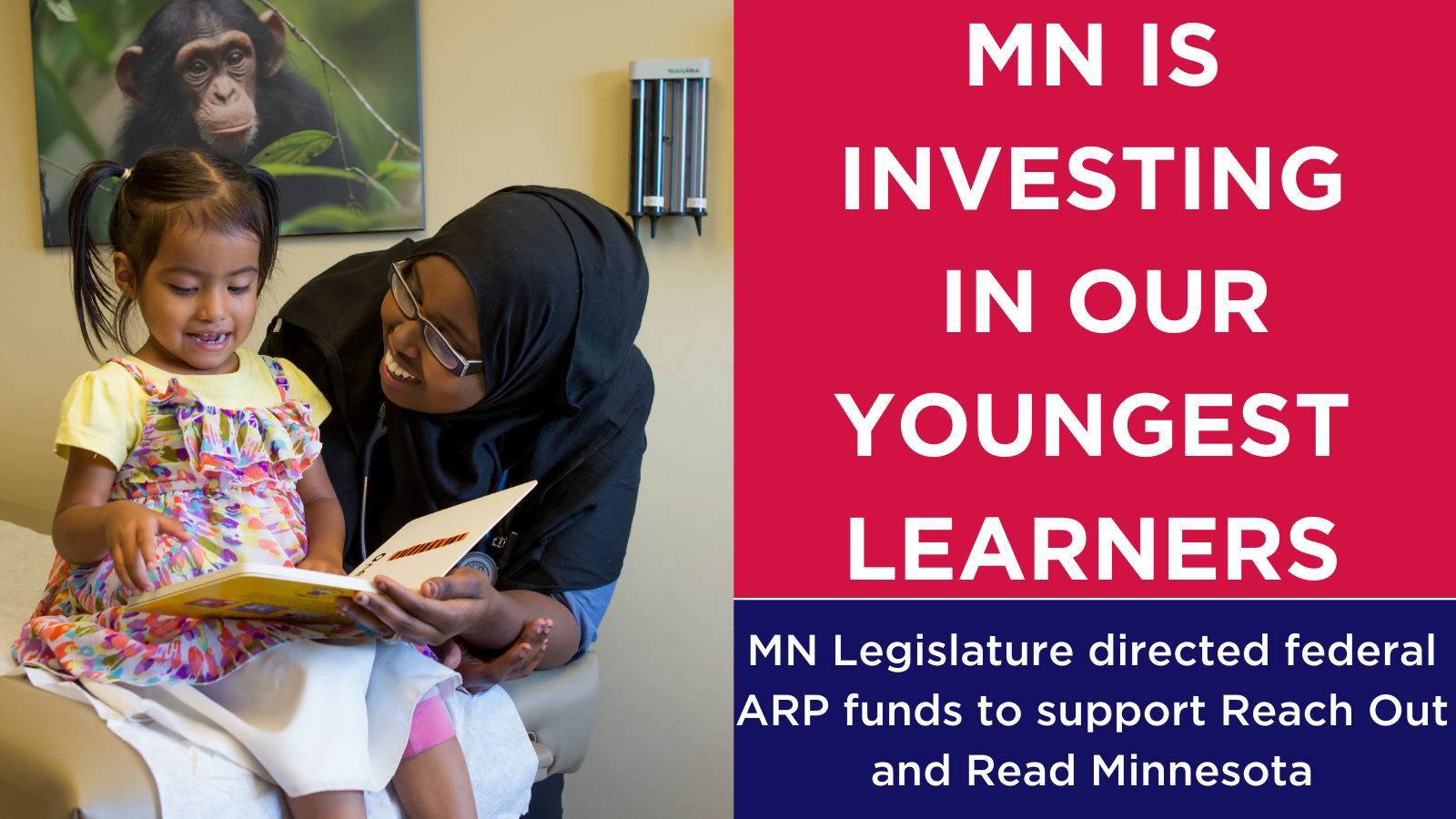 FOR IMMEDIATE RELEASE
Media Contact:
Liam Mackin
Communications and Development Manager
(651)239-3248
Liam@reachoutandreadmn.org
Minnesota Legislature Directs Federal American Rescue Plan Funds to Support Reach Out and Read Minnesota's Early Literacy Program
SAINT PAUL, MN (8/30/21)- Legislators in Minnesota's House and Senate have recently directed funds from the federal American Rescue Plan (ARP) to support The Reach Out and Read Minnesota pediatric early literacy program statewide. This funding is a part of the state's allocation of federal ARP funds to support early learning, and was granted through the Minnesota Department of Education.  
The funding, totalling $150,000, will be used to support the expansion of the program in high-impact areas across the state, to purchase high-quality, culturally and developmentally appropriate books for families participating in the program, and to build upon the program's robust relationship with the state's healthcare systems.  The program, in which clinicians give books and early learning guidance to the families of children ages 0 to 5 years at their well-child visits, is currently active at over 280 clinics statewide and serves just under half of the age-eligible population in Minnesota. This funding provides a vital opportunity for the organization to expand its reach to new families statewide, particularly in high-needs communities.
"We're thrilled that the Minnesota legislature continues to recognize the importance of our program and its ability to reach our youngest learners," said Executive Director Kris Hoplin.  
Because the organization partners with healthcare providers statewide, Reach Out and Read Minnesota is unique in its capacity to provide early learning guidance and resources to such a significant number of young children and their families before they enter a formal learning environment such as kindergarten. With this unique access, the program seeks to help combat early learning disparities in Minnesota, which have been shown to be some of the starkest in the nation, when they take root in early childhood.
####
Learn more about the Reach Out and Read program in Minnesota