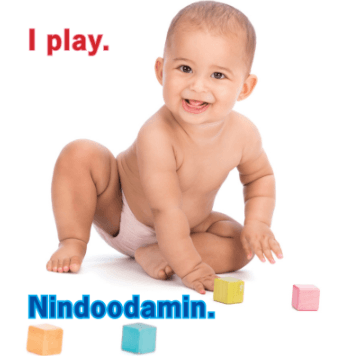 (October 26th, 2021) Reach Out and Read Minnesota is thrilled to share that we have a new bilingual Ojibwe translation of the book My Day by Rhea Wallace now available for our clinics. The book aims to teach simple words and phrases to young children, such "I eat", niwiisin, and "I play", nindoodamin, in both English and Ojibwe.
Medical providers trained in the Reach Out and Read program will give these books, along with developmental coaching, to young children and their families at their regular well-child visits. With an increasingly diverse selection of bilingual and non-English books available to our clinics statewide, we seek to better equip families to learn in their preferred language at home, and to let every family know that they are welcome and valued in our communities. We are particularly pleased to offer this original translation in Ojibwe, a language that has been frequently requested by our community partners.
We commissioned this original translation of My Day from Professor Nyletta Belgarde, an Ojibwe Language Instructor and Chair of the Arts and Humanities Department at Leech Lake Tribal College. It is available from our partner vendor and publisher Interstate Books4School.