With Grant from Shakopee Mdewakanton Sioux, Reach Out and Read Minnesota Gives Out 800 Books by and about Native Americans to Children Across Minnesota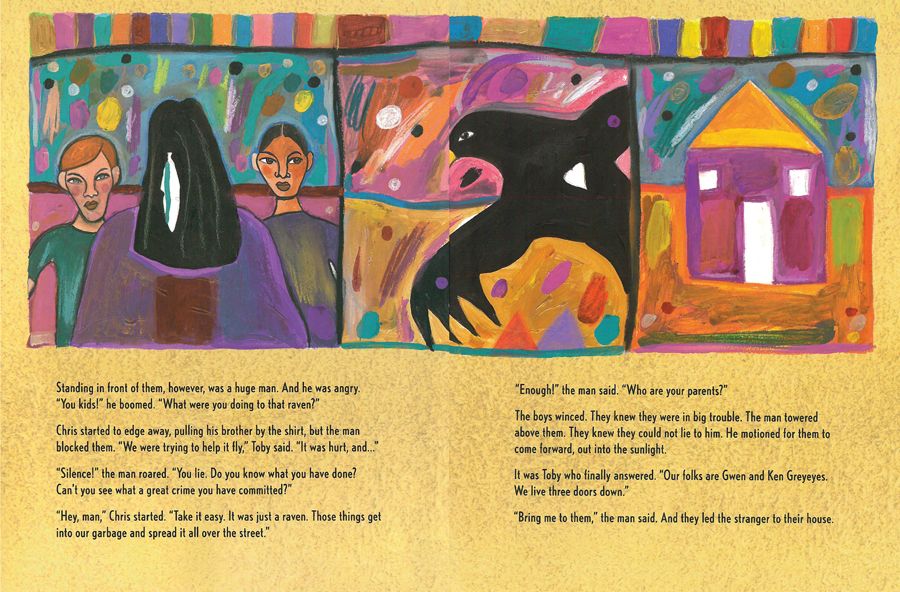 Man Called Raven by Richard Van Camp
In the world of children's literature  two of the biggest buzzwords right now are "mirror" and "window". What do they mean? Well, according to the experts, a book serves as a mirror when a child sees their life reflected in the pages, such as a character who looks, dresses or speaks just like them. A book serves as a window when a it offers a child a glimpse into a world that is different from their own. For those of us who grew up in Minnesota, that may have been seeing a character wearing shorts on Christmas and understanding that different places have different weather, or learning that those big pointy hills on the background of a page were actually something called "mountains"! 
However, when it comes to children's books, we know that not all lives and worlds are represented equally. Not every child has the privilege of seeing their own world reflected in the pages of a book and, just as importantly, often the worlds they live in are not seen or understood by other children whose worlds differ from their own. Native Americans are perhaps the most underrepresented group in children's literature. For example, according to Indian Country Today, only 0.3% of all picture books published in 2016 centered around Native American characters or issues. This means that there were five times as many books published about talking dinosaurs than Native Americans! The impact of this lack of representation on children's worldview and self esteem can be enormous, especially at a critical period when they are just beginning to form their own self-concept and define their relationships to others.
Fortunately, thanks to a generous grant by Shakopee Mdewakanton Sioux Community, Reach Out and Read Minnesota has been able to take one step towards providing greater Native representation in our children's literature.  This week, we supplied 16 of our participating clinics each with 50 books by, about, and featuring Native American people and Native issues. That's a grand total of 800 Native themed books that will be given to children all across the state of Minnesota!
The books were supplied by Birchbark Books, a Native-focused independent Minneapolis bookstore owned by author and local literary icon, Louise Erdrich. Reach Out and Read Minnesota program staff collaborated with Carolyn Anderson, Store Operations Manager at Birchbark, to select the books for quality and cultural relevance.  
The 16 participating clinics are located across the state, both in the metro and Greater Minnesota, and serve a diverse range of patients. The books will be given to both Native and non-Native families so that they may be both a mirror to the lives of our youngest Native Minnesotans, and a window to Native lives for others. 
Reach Out and Read would like to extend our sincerest thanks to the Shakopee Mdewakanton Sioux Community for their generosity and to Birchbark Books for their collaboration. 
If you would like to see a list of the books provided or would like to learn more about Native representation in children's literature, check out the links below. 
- Liam Mackin, Communications Associate Reach Out and Read Minnesota
7/12/19