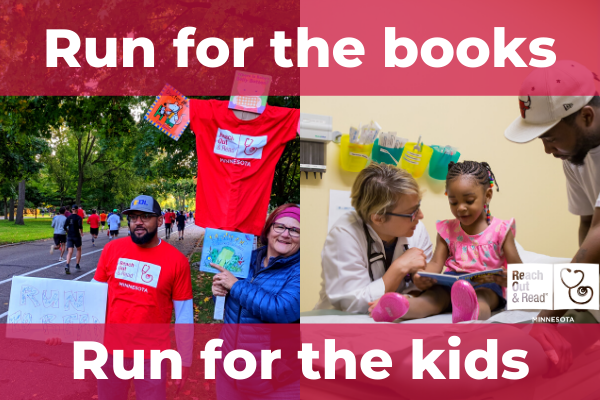 The Medtronic Twin Cities Marathon is Going Virtual in 2020
and we want you to join us.
Reach Out and Read MN is looking for a few champions of literacy to run on our team for the virtual Twin Cities Marathon and 10 Mile . While the pandemic has drastically changed everyone's plans this year, we know one thing remains true: Minnesota children need to keep on learning! Their futures depend on it. We need our community's support to provide kids with the brain-building tools they need to stay on track for success. 
We currently have 4 open spots for our 10 mile team, and 1 open spot for the full marathon for dedicated runners willing to fundraise for us and support our vital early literacy program. Because of this year's circumstances, we are not requiring any fundraising minimum to participate. For any runner that raises $250 or more, we will provide a Reach Out and Read Minnesota team running shirt, and we will reimburse registration costs for the 10 mile ($59) or marathon ($125) for any runner who raises $400 or more. We provide a shareable fundraising platform through GoFundMe Charity and will be providing fundraising guidance and assistance up to all of our runners. Our aim is to make the event as accessible as possible for anyone who is interested in supporting our cause. 
We know our partners at TCM are working hard to make the virtual race an engaging and meaningful experience. Runners will have access to an interactive custom TCM app, games, and giveaways, and will receive their finisher's medal, TCM finisher shirt, and gift after registering their time online. Runners set their own course and run at their own chosen date. You can read more on their website. 
Any questions can be directed to Liam@ReachOutandReadMN.org.