Reach Out and Read was first implemented in Minnesota in 1997 when 3 clinics began using the program. There were 6 participating clinics in 2002, 15 in 2004. In December of 2005, program champions in Minnesota were invited to form a state chapter, that is, a field organization with a coordinator to provide support to clinics wanting to learn more about how to implement the program. That is when the organization began to grow swiftly and decisively: 33 clinics in 2006; 48 in 2008; 72 in 2010. The number of participating clinics more than tripled in the following 6 years. In June 2016, Reach Out and Read Minnesota became a Minnesota nonprofit corporation; we severed fiscal ties to the Reach Out and Read National Center in Boston in October 2016. Still closely affiliated with our parent organization, the separation was amicable, we now have our own website, policies, protocols, and strategic plan, which focus on what's best for Minnesota clinics, while continuing to adhere to national branding guidelines and relying on the National Center's training, data collection, reporting, and analysis tools. Reach Out and Read Minnesota is one of the top ten affiliates in the country with respect to growth, number of clinics, number of children served, and overall performance.
Reach Out and Read Minnesota meets the unique needs of families with young children in our state by providing culturally-appropriate services and targeting the most at-risk children. Books are provided in a family's native language whenever possible, including Spanish, Somali, Hmong, Karen, Burmese, and Ojibwe. Clinics that serve a high percentage of low-income families are a priority for the Reach Out and Read program.
The number of children participating has more than tripled since 2007. As of June 2019, 1 in every 3 Minnesota children from the ages of 6 months through 5 years of age participates in Reach Out and Read. This means that more than 167,000 children and their families benefit at 267 affiliated clinics throughout the state. Two thirds of participating children live in the Twin Cities metro area; one third reside in Greater Minnesota. 
Percent of MN children ages 6 months through 5 years participating in Reach Out and Read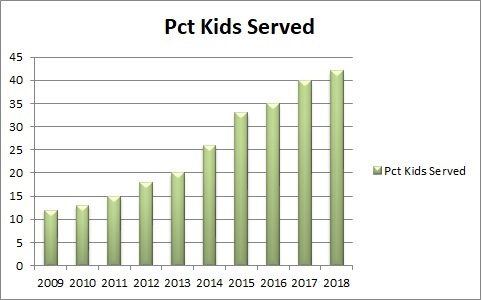 Many health systems in Minnesota now incorporate Reach Out and Read into their standard delivery of primary pediatric care.