Minnesota Bookend Communities
Fairmont (July 2015)
Northfield (October 2017)
Northfield achieves Bookend Community Status
Reach Out and Read, a nationwide, nonprofit early literacy program that provides free books to children at their regular checkups, has named Northfield a "Bookend Community," only the second city in Minnesota to earn that designation. To become a Reach Out and Read Bookend Community, 100% of all primary healthcare practices in the community must participate in the program.
Reach Out and Read Minnesota representatives Lynne Burke, Executive Director, and Karen Elhai, M.D., chair of the Board of Directors, presented the "Bookend Community" award to Northfield mayor Rhonda Pownell and all the healthcare providers of Northfield on October 3, 2017. 
In the past year, three sites in Northfield welcomed the Reach Out and Read program: Northfield Hospitals and Clinics Northfield Clinic, HealthFinders Collaborative, and Allina Health Northfield.  These clinics were supported in their efforts by the Southern Minnesota Initiative Foundation and the Northfield Healthy Communities Initiative. These practices join more than 5,500 other Sites nationwide that are working to give parents advice about the benefits of reading aloud to their young children.  In Minnesota there are 221 active clinic locations, with more than 143,000 children participating – over 1/3 of all children ages 6 months through 5 years statewide.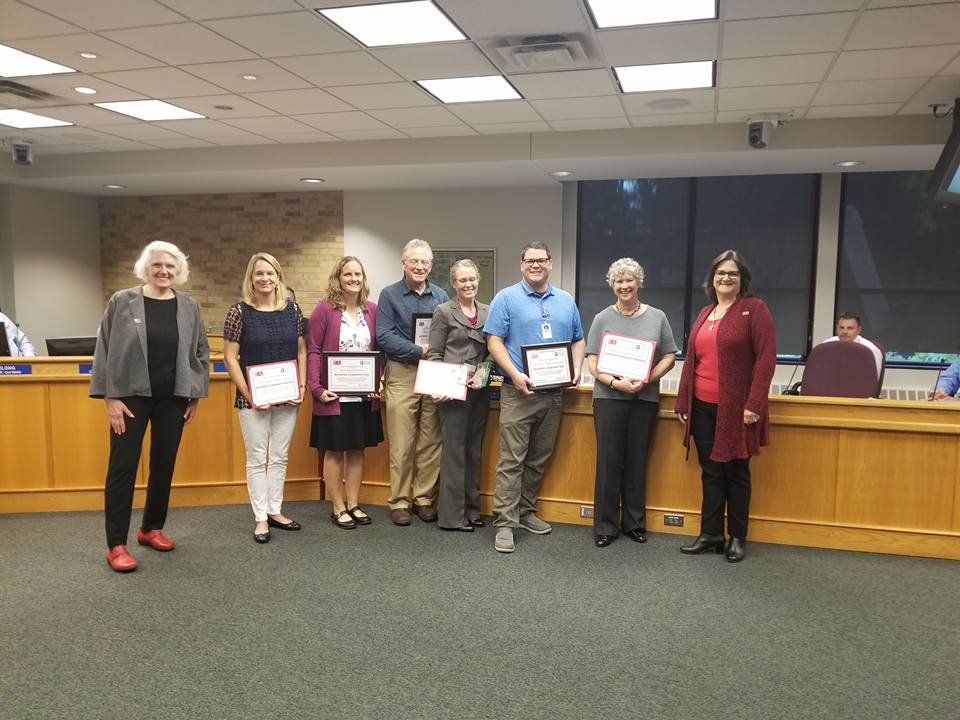 Minnesota's First Bookend Community Award

Fairmont is the first city in Minnesota to have achieved Bookend Community status!  This designation is reserved for cities with a population of 10,000 or more in which every provider of primary healthcare to young children participates in Reach Out and Read.  In recognition of this significant milestone, Fairmont's Mayor, Randy J. Quiring, proclaimed that Monday, July 13, 2015, was REACH OUT and READ Bookend Community Day in Fairmont.  A crystal book was presented to the mayor, a certificate was given to each clinic, and the community received a unique banner for public display.
Kudos to the five clinics who earned this status for their community: Dulcimer Medical Center, Smart Clinic, Mayo Clinic Health System in Fairmont, Human Services of Faribault & Martin Counties, and the Center for Primary Care.  Special thanks to Police Chief Greg Brolsma, Roni Dauer, Patti Mathews, and Catherine Johnson whose dedication contributed greatly to this achievement.