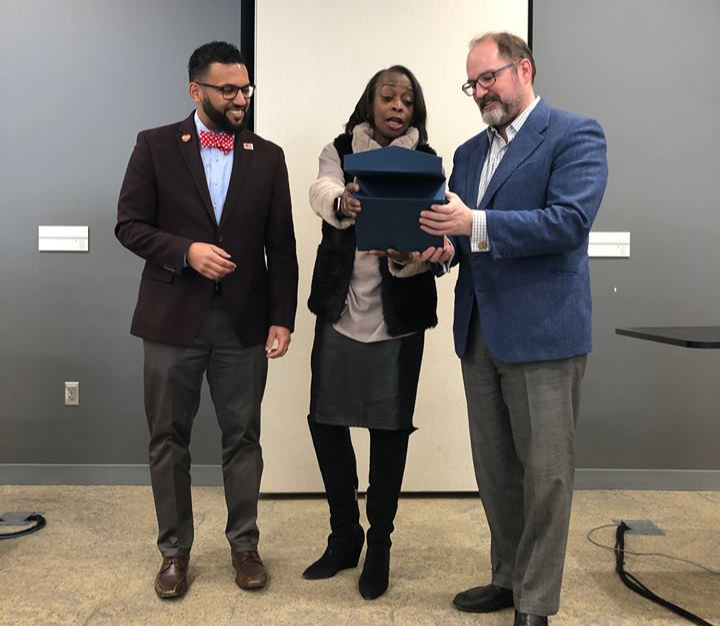 Minneapolis Becomes Largest City in the Country
to be Named a Reach Out and Read "Bookend City"
Thank you to everyone who attended our celebration on January 30th! 
Reach Out and Read, a nationwide, nonprofit early literacy program that provides free books to children at their regular checkups, today named Minneapolis a "Bookend City", making it the largest Bookend City in the country. To become a Reach Out and Read Bookend City, 100% of all primary healthcare practices in the city must participate in the program at the highest levels of quality.
Reach Out and Read Minnesota representatives presented the "Bookend City" award to city leaders and healthcare providers on January 30th, 2019, at Hennepin Healthcare.
To achieve this goal, all 32 clinics in the city chose to participate in Reach Out and Read. Additionally, clinics had to meet eight quality measures, which included at least 75% of providers being trained in the model and every clinic creating a literacy-rich environment for their patients. The 32 Minneapolis practices join more than 5,500 other sites nationwide that are working to give parents advice about the benefits of reading aloud to their young children.  In Minnesota there are 262 active clinic locations, with more than 154,000 children participating – over 40% of all children ages 6 months through 5 years statewide.
Reach Out and Read Minnesota Medical Director Nathan Chomilo, MD said, "This is a fantastic step towards addressing the opportunity gaps we see in Minneapolis and throughout Minnesota. Gaps that can be seen as early as 2 years old. The science is clear that if we wait until kindergarten or preschool we will miss a significant window to change the trajectory our children are placed on. Reach Out and Read is a simple healthcare intervention but it meets parents and families where they are at instead of requiring forms or subsidies and works with them to build on skills they already have. By becoming a Bookend City, Minneapolis has provided every child and parent cared for within their city limits the ability to have the tools to write their own story."
Reach Out and Read doctors and nurses distribute 6.5 million books to more than 5 million children and their families annually at 5,500 pediatric practices, hospitals, clinics and health centers in all 50 states, targeting those centers which serve children at socioeconomic risk.  Reach Out and Read has one of the strongest records of research support of any primary care intervention. For almost two decades, studies have indicated that parents who get books and early literacy counseling from their doctors and nurses are more likely to read to their young children, read to them more often, and provide more books in the home and children have increases in vocabulary and decreases in speech delay.  More than 21,000 medical providers nationwide currently participate in Reach Out and Read.  For more information, visit www.reachoutandreadmn.org.