Reach Out and Read Minnesota's staff and board members have a strong commitment to our mission.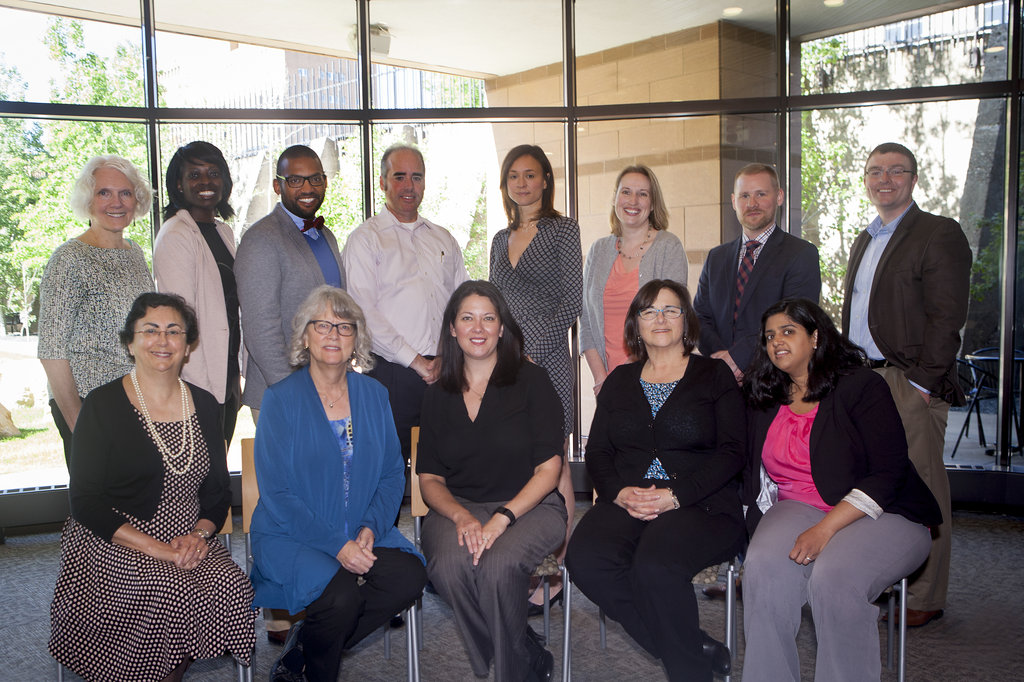 Lynne Burke, Executive Director

Lynne was a children's book reviewer with a nationally syndicated column for nearly 20 years – until she learned about Reach Out and Read in 2002. She became an on-site coordinator in 2003 and the state's field leader in 2005. She received the Wyntress Smith Award for Organizational Excellence from the Reach Out and Read National Center in 2014 for exceptional work and commitment to Reach Out and Read's core values of passion, excellence, respect, and innovation.
Lynne can be reached at lynne@reachoutandreadMN.org.


Kris Hoplin, M.A., Program Director

Kris came to Reach Out and Read in April of 2013 with more than ten years of experience in the nonprofit sector. She has a bachelor's degree from St. Olaf College and a master's degree from The University of Chicago, as well as a certificate in nonprofit management. Having two young daughters has reignited Kris' passion for books and she is thrilled to work directly with clinic staff and providers to promote early childhood literacy.
Kris can be reached at kris@reachoutandreadMN.org.

Ellen Kluz, Program Coordinator

Licensed as a Speech-Language Pathologist with more than 12 years experience evaluating and treating young children, Ellen knows how vitally important early language stimulation and literacy skills are for school readiness. She loves promoting the use of age appropriate books and reading to children as a means of capitalizing on brain development, early learning and deficit prevention. She also speaks to parent groups about age appropriate literacy skills and the importance of reading aloud.
Ellen can be reached at ellen@reachoutandreadMN.org.
Reach Out and Read Minnesota Board of Directors
William Asp, J.D.
Attorney, Best & Flanagan 
Greg Brolsma
Fairmont Police Chief, Retired
Member, Board of Directors
Mayo Clinic Health System
Southwest Minnesota Region
Nathan Chomilo, M.D., FAAP
Medical Director of Reach Out and Read Minnesota
Reach Out and Read practitioner, HealthPartners Park Nicollet Health Services
Olcay Cinar
Audit Project Manager – Treasury & Capital, Corporate Audit Services, US Bank
Kathy Cooney,
Executive Vice President and Chief Administrative Officer, HealthPartners
Rachel Domaszek 
Senior Labor Relations Consultant, University of Minnesota
Karen Elhai, M.D. 
Pediatrician and Reach Out and Read practitioner, HealthPartners 
Andra Fjone, DrPH, APRN, CPNP
Clinical Assistant Professor, University of Minnesota 
Sarah Friese, M.P.P. 
Principal Clinical Program Analyst, Medtronic; Reach Out and Read parent 
Joseph Piket
Owner, Primrose Schools (Two locations)
Sylvia Sekhon, M.D. 
Pediatrician and Reach Out and Read practitioner, HealthPartners (Developmental Pediatrics)
Nick Sperling, J.D.
Attorney, Trepanier MacGillis Battina P.A
HaiVy Thompson 
Director of Marketing & Community Engagement, Children's Cancer Research Fund